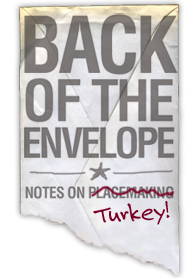 We'd typically be publishing today but we're a little busy surrounding ourselves with friends and family, pondering and giving thanks for the blessings we all share and, yes, consuming mass quantities.
But for those of you who expect — nay, demand — your weekly dose of instructional content, we're loathe to leave you hanging. So today we're gonna turn everything over to the fine folks at The Kitchn and their simplified instruction for what is surely the day's most pressing task:
Are you roasting a whole turkey for the first time this year? Or perhaps you've done this many times before, but you want a quick refresher to brush up on the basics? We'll help you make your mama proud with these step-by-step instructions for roasting a delicious turkey. Here's our super basic, super simple, super easy tutorial for roasting a super beautiful turkey this Thanksgiving.
Consume the rest here. And happy Thanksgiving!