The International Avenue Design Initiative (IADI) was formed by a partnership between the International Avenue BRZ, the University of Calgary Faculty of Environmental Design, and the City of Calgary with a mission to create a vision and strategy for the redevelopment of the International Avenue corridor (17th Avenue SE).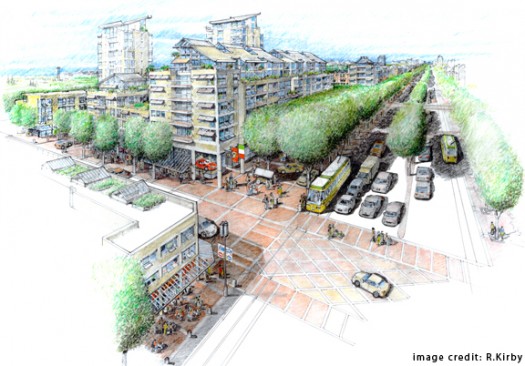 In June 2005, following up on the recommendations of an earlier, broader process, a 4-day charrette was conducted at the Town & Country Hotel, the centre of a redevelopment effort in one of Calgary's most troubled areas. The charrette gathered stakeholders, the public, public officials, and landowners together to develop a strategy and vision for redevelopment of the area into a diverse, vibrant, mixed-use urban environment. The results of the charrette proposed a dynamic urban centre with street level shopping, a range of housing types, offices, high quality urban spaces, and a comprehensive redevelopment of the avenue into a multi-modal, grand avenue. The mixed-use shopping and residential areas are to be integrated and strengthened by existing industrial uses to the south. The industrial area offers opportunities for developing vibrant "industry clusters" and smaller scaled industrial live/work units.
This charrette was the second charrette as part of a series of charrettes in the International Avenue Design Initiative and is the first professionally led charrette focused on the eastern most urban centre at 50th Street SW. PlaceMakers Principal, Geoff Dyer, served as project manager for the charrette. The results of this second charrette and the earlier results from the first charrette formed the foundation for a technical report completed by the University team, which received a prestigious Charter Award from the Congress for the New Urbanism in 2005.
Greyfield corridor redevelopment represents one of North America's most significant urban sustainability initiatives. Single-use, underutilized strip-commercial corridors can be redeveloped into high density, mixed use environments that utilize existing infrastructure.