Unlike many — if not most — American cities, Lawrence, Kansas, has a vibrant, intact downtown. The fringes of the city, however, had been under increasing development pressure in recent years, leading local officials to undertake an intense planning and coding process to manage developing sprawl.
They turned to the SmartCode, and PlaceMakers, to create a parallel regulating ordinance where alternate outcomes were possible.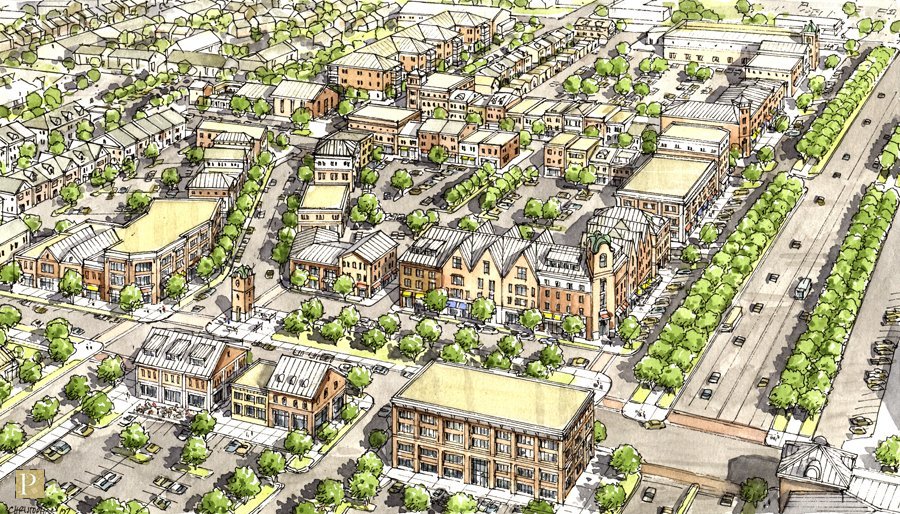 This presented a number of unique challenges. Culturally speaking, the people of Lawrence are highly engaged with a legacy of vigorous community-wide discussion and debate. Furthermore, while some level of government-driven, long-range visioning had taken place, the process was short of completion and widespread community buy-in had yet to be fully accomplished.
In other words, it was an ideal scenario for PlaceMakers' preferred model, the charrette, inclusive of a wide selection of our municipal services: planning, coding, charrette facilitation, community engagement, and implementation advisory.
Setting the stage, the process began with a preliminary education effort. Multiple categories of stakeholders were identified and invited to attend a PlaceMakers SmartCode Onsite educational seminar. This served to not only raise local understanding of how the SmartCode works, but to further establish channels of communication that were subsequently carried through to the charrette itself.
Awareness of the process was maximized through PlaceMakers' community engagement services, including printed promotional materials, public relations and the iCharrette "daily feed" website that makes such efforts so effective.
Ultimately, working together with local stakeholders and other passionate interest groups, PlaceMakers provided master planning for six key areas and produced regulating plans, a sector plan, and a comprehensive SmartCode calibration to make implementation possible.
The code was adopted in January 2009.