Developer Herb Freeman's home, a Georgian mansion that sits in the geographic center of his 160 acres, inspired the design for Leytham, a traditional neighborhood development just outside Omaha, Nebraska. Directing all facets, PlaceMakers delivered master planning, regulatory codes, charrette communications, implementation advisory and, after the charrette itself, brand marketing support.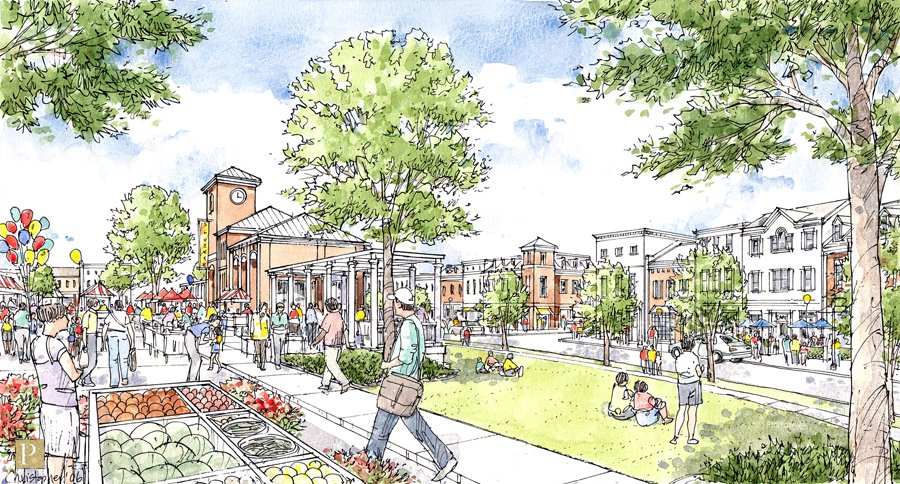 The design problems associated with Leythem were two-fold: beautiful but challenging topography led the public to ask, "Don't TNDs only work on flat land?", while the equally beautiful land surrounding the project had developed in recent years with a conventional, and regrettable, pattern of generic American sprawl. PlaceMakers was challenged by the client to design as intensely as possible while respecting the topography, and to capture the long views of the countryside while avoiding the views of the surrounding suburban development.
The solution was found in a very medieval plan not unlike a spider web draped over the high point of a hill. Greenways were established to serve as public parks and pedestrian enjoyment. Existing wetlands were reclaimed, and the ravine with a creek became a preserved natural open space. Concurrently, the charrette architects developed hillside solutions for all housing and commercial types that are commonly used in traditional neighborhoods. A variety of civic buildings and spaces were planned, and a pervasive green network was established throughout the site.
Meanwhile, the team's transportation engineer negotiated pedestrian and retail-friendly access to the major thoroughfares at the corner of the site, while public relations and outreach efforts achieved major coverage in the local media and drove sufficient web traffic to generate a sales prospect list of over 200 people.
The result was much support throughout the surrounding community, helping speed approval at the preliminary platting phase as City Planning and Zoning established a new provision for TND entitlements citywide.