New Castle County, Delaware is exceptional in that as a 2,000 square mile planning area, the County has the vision of both protecting natural resources and planning for more intense development that will support transit and sustainable community. They elected to implement a form-based code as a new Hamlets & Villages chapter within their existing Unified Development Code to empower the development of denser new towns.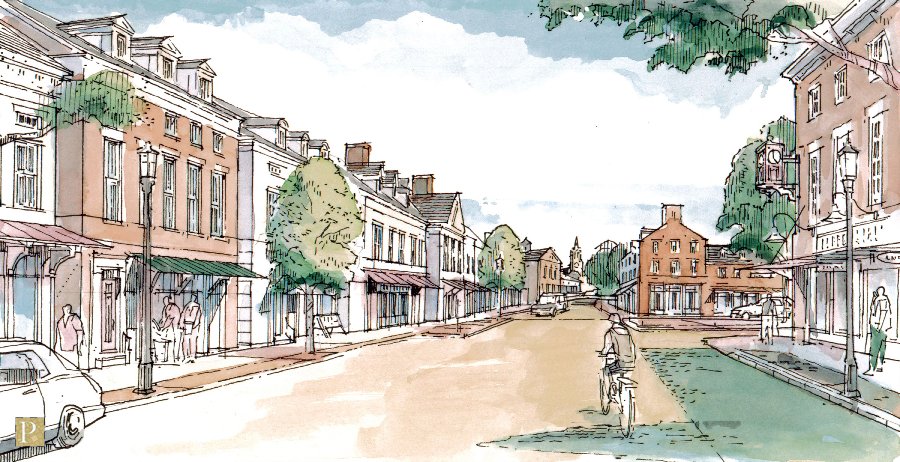 The metrics of the New Castle County SmartCode were based upon the local best-loved places, including Wilmington's Trolley Square, Wawaset Park, Bancroft Parkway and Old New Castle. These areas defined a very clear vision of the character of urbanity in the County from the sub-urban to the most urban. Through collaboration with elected officials, planning staff, neighborhood groups and the development community, the SmartCode was customized to reflect the character of the northern Delaware region.
Working with a private developer, PlaceMakers subsequently designed the 1,555 acre, multi-village Whitehall project under the New Castle code. The Town of Whitehall master plan under the New Castle County form-based code is pictured below. This master plan is comprised of eight hamlets and villages ranging from a very rural hamlet to a robust village center. It aggressively protects the natural resources of the streams and wetlands as well as providing local schools, library, police and fire stations, and a regional community college campus.
Whitehall was just the sort of place that New Castle County is after — clustering development in new villages in order to preserve rural agricultural heritage.