Talk about killing two birds with one stone. Pike Road, Alabama, Mayor Gordon Stone had two key opportunities before him. First was the rural city's prospects for growth. Just 15 miles outside Montgomery in its primary growth corridor, there was no question it was coming. And quick. With an aggressive strategy to encourage and manage it, this ambitious and relatively young community could bring greater flexibility and choice to landowners — and make the prospect of annexation more attractive to those adjoining its borders.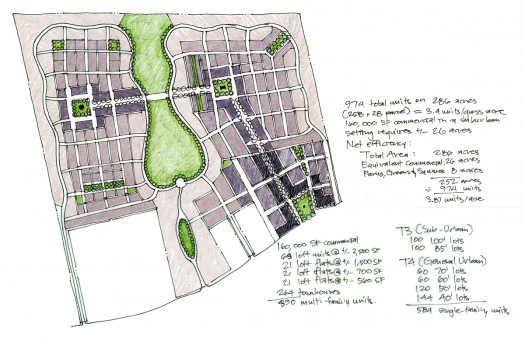 One of these was The Waters, a growing and highly successful Traditional Neighborhood Development (designed and marketed by PlaceMakers) lying just outside their city line. With its potential billion dollar status and 20 to 30 year build out, the project was more than just a dynamic example of rural preservationist planning. It was an ideal candidate for annexation. The only problem was that Pike Road lacked a zoning ordinance capable of facilitating the project's future growth and, without it, The Waters simply wasn't interested.
Enter the form-based SmartCode, an increasingly popular unified land development ordinance and what turned out to be the solution to both issues. With it, Pike Road could become more attractive for growth while establishing an equitable scenario for The Waters' annexation. All in a manner better suited to preservation of the rural character that has defined the community for generations.
With PlaceMakers' help, they took control of their future.
The process began with consideration of their primary asset and physical connection to the culture that has defined the area since before the Civil War: 75,000 acres of farmland. What models could be utilized to retain this much-revered agricultural character without thwarting growth and opportunity?
PlaceMakers began by reaching out to specific landowners whose buy-in was essential to the overall success of the project, creating conceptual master plans or illustrative designs for specific parcels and, ultimately, spurring interest in various annexation scenarios.
To regulate the desired growth patterns, the firm designed regulating and sector plans that, together with a specially calibrated SmartCode, could proactively preserve the city's rural character — accommodating growth through a network of hamlets, villages and town centers.
With its ultimate adoption as a largely optional, parallel code, Pike Road was able to offer landowners what other municipalities could not: increased choice. In the process, somewhat accidentally, they became a recognized innovator of the New Urbanism's country cousin: the New Ruralism.
They also became the SmartCode's first adoption in the state of Alabama. Perhaps not coincidentally, neighboring Montgomery was soon to follow.