Planned as a billion dollar, 2,400 unit endeavor, The Waters is a traditional neighborhood development (TND) just outside Montgomery, Alabama, and the second PlaceMakers client from that state to benefit from a full palette of PlaceMakers service offerings: Planning and Urban Design; Coding; Implementation Advisory; and Sales and Marketing.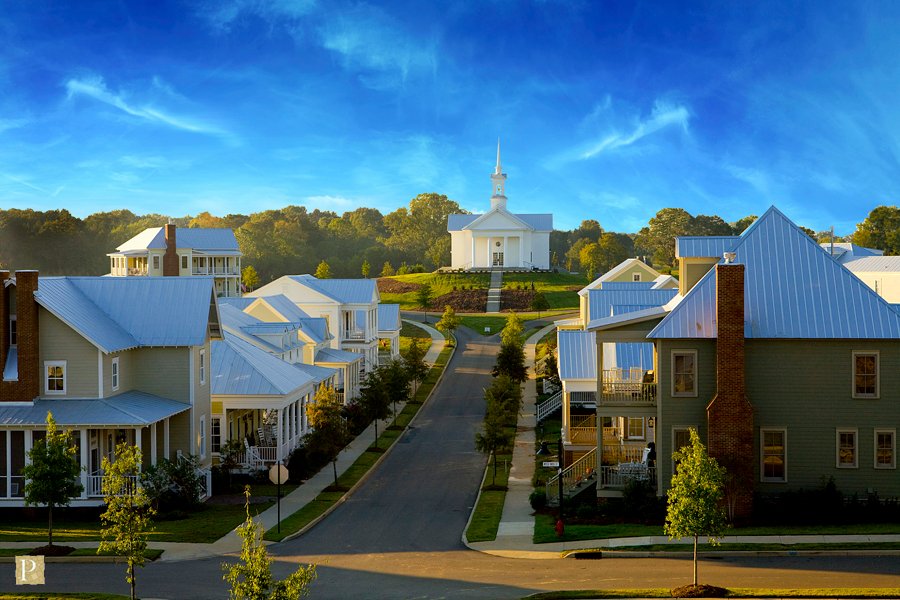 Set on an idyllic tract of land long utilized as grazing pasture, the original project site featured a variety of topographic advantages, including gently rolling hills, five small lakes, a grove of mature oaks dripping with Spanish moss, and an old plantation home in an ongoing state of renovation.
Addressing this, the project's Founders established a clear, two-point vision for the property's development: protect and preserve the natural beauty of the land, and then honor that beauty with a special place of equally endearing value.
Embracing this challenge, PlaceMakers led a planning charrette of designers, transportation engineers, landscape architects, and market analysts to design the 1,250-acre site. With the clear intention of capitalizing on the land's bountiful natural features, while maximizing the project's inherent market potential, a new, 200-acre lake was proposed with eight surrounding villages, each with unique characteristics and amenities, separated by wide expanses of water or preserved open space.
Execution of this vision was then seamlessly facilitated through PlaceMakers' coding tools. First, a master regulating plan provided the necessary context-based coding of building types, street types, open space types, and other key spatial parameters. Next, a pattern book was created to ensure the highest levels of quality and detailing in the project's signature traditional southern architecture.
Finally, concurrent with many of these efforts and empowered by atypical integration with the project's planning and development team, PlaceMakers' Implementation Advisory and Sales and Marketing services took the project to market. With solid strategies and engaging communications, over 100 initial commitments were secured, even in the absence of advertising and before the turning of the first shovel. PlaceMakers continued on the project until the near completion of Lucas Point, the first village, and initiation of Welch Cove, the second.
The Waters now has over 400 residents.