Enjoying the multiple conversations that Monday's piece started about Little Free Libraries, I can't help but share the two that our family has been enjoying this summer. In doing so, there's a striking difference between the development pattern of Monday's neighbourhood in Kansas versus this 100-year-old Winnipeg neighbourhood in which I live. Do those development patterns have anything to do with the vastly different public responses that these libraries have received? Maybe not, but it's an interesting contemplation.
The blue image below is the Little Free Library that our family frequents almost every night. The other day when I was walking an errand elsewhere, I noticed our dog pulling to head toward the library, hopefully. We often end up in conversation with the owners of the home, who tell us that people leave so many donations, they've ended up with a small pallet in the basement, waiting to circulate. She also has said that they haven't gotten complaints from neighbours during the 1-year that the library has been circulating its collection, but rather it becomes a place where people congregate in ones and twos, meeting new people and sharing ideas and books, year around. We often tuck small gifts into the books, an extra ticket to this or that, and are fulfilled and encouraged by this small gift to the street.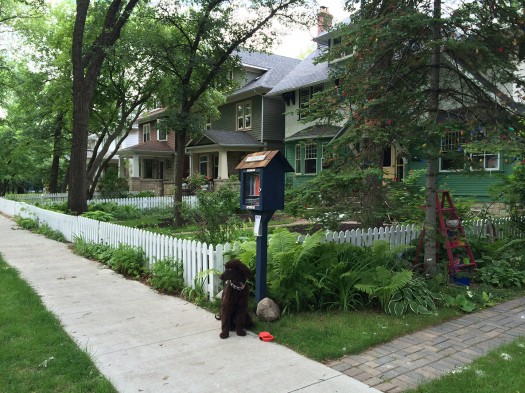 However, you'll notice in these pictures that unlike that Kansas neighbourhood with the garage out front, these houses are fed by a rear lane or alley. People are used to seeing each other on their front porches, working in the garden, or strolling down the sidewalk. Plus all that eye contact causes us to secrete oxytocin, the trust hormone, so we might just be a little more relaxed around each other. More from Heather Emberley on the Little Free Library story and from Gordon Sinclair on their ability to connect us to each other.
When we moved here, there was a long note on the counter from the previous owners with directions on how to navigate this old house. Their first statement was, "You have great neighbours, and they will help." I wonder if these people were appreciably different human beings than those who lived in my cul-de-sac neighbourhood in Florida? Or if it's just that we rarely saw each other, from our collective snout houses?
The red sharing library below is not a Little Free Library, but rather an art installation that is only up for summer before the structure moves back to its job as a warming hut on the frozen Assiniboine River for the winter. But again, in the same neighbourhood and this time across the street from the park. In addition to the rear-facing garages, the high numbers of schools, places of worship, parks, and corner pubs increase our propensity to mix and mingle. Without the monotonous sameness enforced by the design constraints on the homes in many suburban locations, a little red or blue library at the curb isn't such a shock to the system.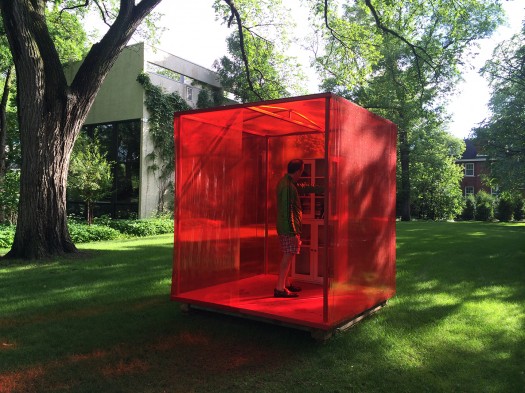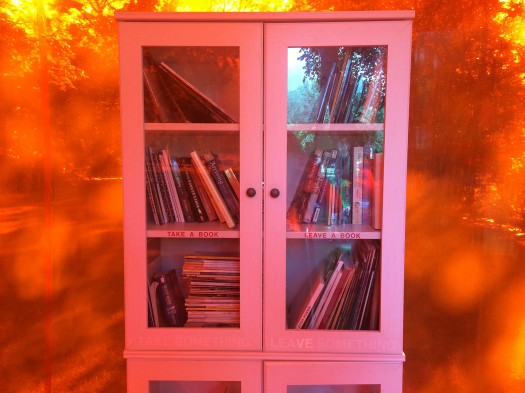 I'm not suggesting that the troubles experienced in Monday's story come down to something as simple as the few dynamics I'm describing, however it does remind me of Winston Churchill's words, "We shape our buildings, and then they shape us."
If PlaceShakers is our soapbox, our Facebook page is where we step down, grab a drink and enjoy a little conversation. Looking for a heads-up on the latest community-building news and perspective from around the web? Click through and "Like" us and we'll keep you in the loop.